Grand Piano
"The sacred and solemn organ seems to have a very long history, but it is well-preserved."
— Description
The Grand Piano is an interactive S-Tier Furniture that can be bought from the Illusion Hall.
Like all Musical Instruments, the player can interact with the Grand Piano in their own room to "Play Music" and edit the layout of furniture in their room.
It can be used to customise the Room Music.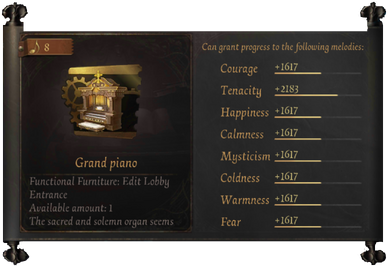 | Type | Melodies |
| --- | --- |
| Courage | +1617 |
| Tenacity | +2183 |
| Happiness | +1617 |
| Calmness | +1617 |
| Mysticism | +1617 |
| Coldness | +1617 |
| Warmness | +1617 |
| Fear | +1617 |